These five amazing hikes to take with kids weren't a conscious thing at first… it just started with a walk in the woods, which then turned into a weekly walk in the woods, which then turned into a hike with friends out beyond the confines of cellphone reception and into the world of "leave only footprints, take only pictures".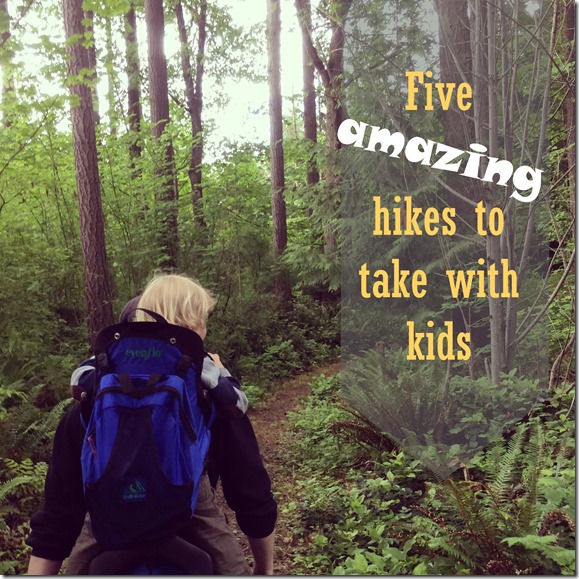 "What kind of adventure are we going on today?" asks my 7 year old as he bounces up and down in the kitchen.  Strawberry jam still on his face, he is sure that I have planned something marvelous for him to do while he is on his summer vacation.  But, for my kids, that doesn't mean trips to Disneyland or even to the playground, that means we strap on our hiking shoes and go out into the forest.  Hikes in my family have taken the place of people-filled and people-centered spaces that crowd our minds with images of super heroes or cartoon characters.  Spaces that constantly fill up the blank spots and demand all of your attention 115% of the time.  
 This year, my husband and I wanted to try the 'slow summer' type arrangement where our children enjoy nature, take long walks, and spend a lot of time bored out of their minds until they find something to do.  You know… like we used to.  Slowly but surely, we entered a world where only a canine and a group of mountaineers could find us and guess what?  We all loved it!
Finding a hike to take with kids can be hard to do however, so I would like to direct you to http://www.localhikes.com/.  This site is dedicated to directing you to the hikes around you and has categorized them by difficulties so you can make the best choice for your family.
Here are a few of our favorite hikes to take with kids:
A Wildflower Hike
A hike dedicated to flowers may seem like a 'girl' thing… and don't get me wrong, I think that getting girls out into nature is incredibly important… but you would never guess that it's my BOYS that love flowers in my house.  My daughter is the animal queen, but my son can point out a wild honeysuckle or a foxglove at a glance. 
To find lots of wildflowers, you have to go into the areas that have large meadows.  Usually with little or no wheel traffic.  Mountain hikes are ideal to see fields of wildflowers.
My 7 year old son, Logan, is the one who likes to take the pictures of flowers and ask me what they are.  It has been fun to discover new flowers with my bloom-loving boy and to see his eyes light up when he sees scenes like this one, of a whole valley of foxglove plants.  
Be careful!  Foxglove plants are both pretty and toxic, to humans and dogs!  As with all plants in nature, do not eat them unless you are a trained professional and know exactly what they are.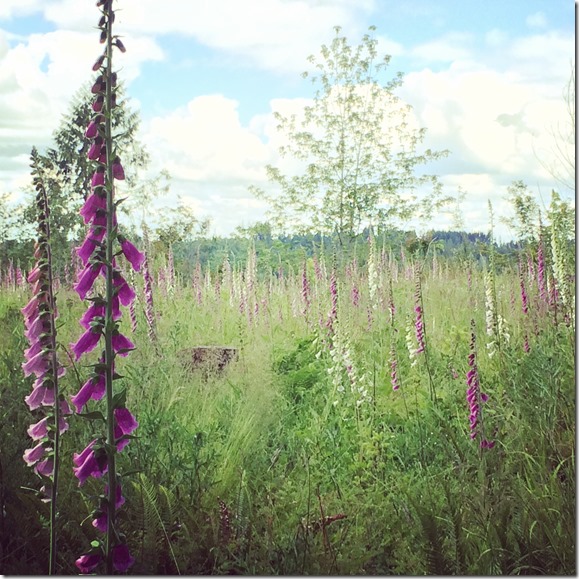 Valley of Foxglove, near Parks Forest, WA
 Inner City Green Belt Hike
 A good hike may be a lot closer than you think!  We have quite a few 'green belts' around us that have protected trees or wetlands which need to be preserved but include public trails.  Check your local nature center to find a few good walks around your area.  (Here are a few good tips on taking hikes with kids.)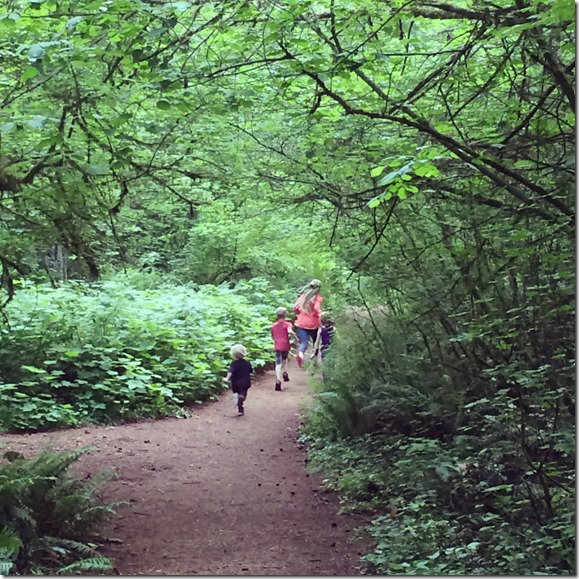 Sprinker Green Belt in Spanaway, WA
Some of my favorites  and just a short drive away, Green Belt hikes are the easiest to find in the city.  They are close, easy to access, and usually have several maintained trails, making it simple to take kids with you.  Some are even paved if you are partial to a stroller and not a backpack!  These hikes are "bring your toddlers and your dogs" hikes, and it is probably more fun that way!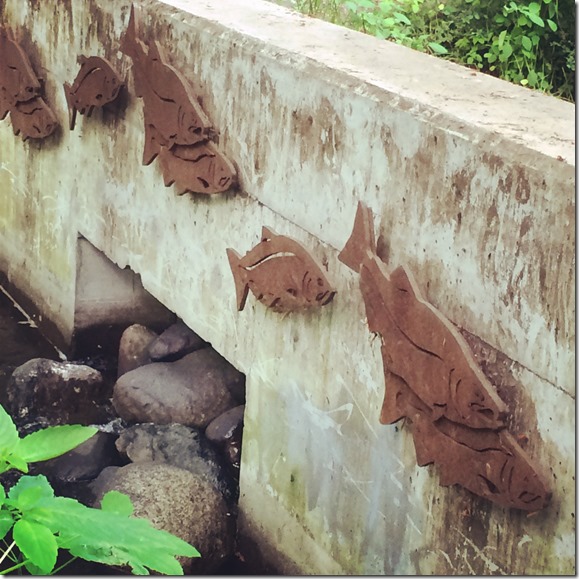 Breezeman Forest Trail, Spanaway, WA
Letterboxing Hike
If you have never done a Letterbox, you are in for a treat.  Imagine a treasure hunt, nature walk and a scrapbook-worthy stamp collection… all wrapped into one.  Sound fun?  It is!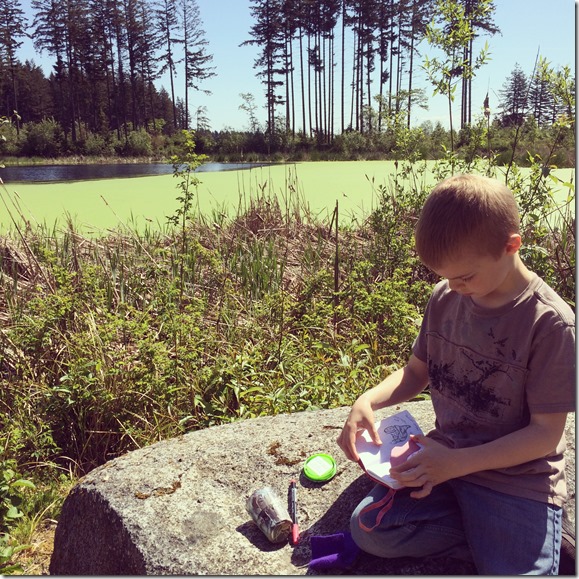 Logan stamping his logbook at Hawks Prairie Recharge Basin, near Lacey, WA
What is letterboxing?  According to AltasQuest.com:
"Letterboxing is an intriguing pastime combining artistic ability with "treasure-hunts" in parks, forests, and cities around the world. Participants seek out hidden letterboxes by cracking codes and following clues. The prize: an image from a miniature piece of art known as a rubber stamp—usually a unique, hand-carved creation. 
All that is required is a notebook and a signature stamp, which can be one right out of your child's art box at first.  You follow the clues on AtlasQuest.com (they even have an app called Clue Tracker) and at the end of the clues is a hand carved stamp that you can stamp into your personal record book.  Some of the stamps are just BEAUTIFUL!  We have been letterboxing for about a year and it has been such a wonderful pastime.  I can honestly say I know about a few of these hikes simply because there is a letterbox planted there!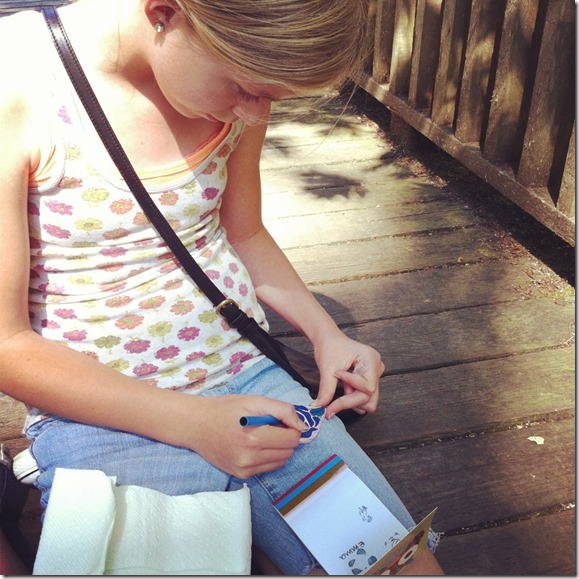 Cyan stamping her logbook at Nisqually Wildlife Refuge, Nisqually, WA
 Beach Combing Hike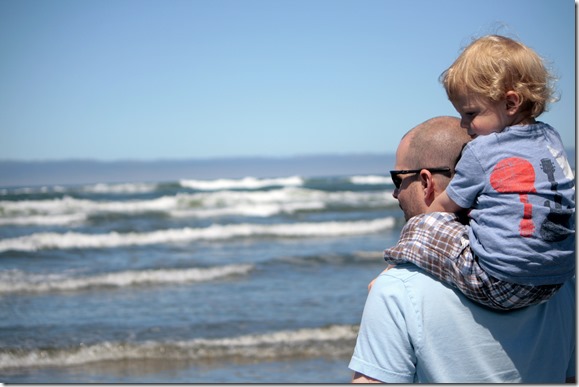 Luke and dad looking for whales, Long Beach, WA
My husband is a water baby.  He LOVES bodies of water.  If I ask him where he wants to go for vacation he says "the ocean" without fail.  We are about 3 hours form the nearest ocean beach, but there are several lakes and other water sources around us that are good places for a day hike.  If my husband got to pick, these would always be our destination.
Finding these hikes is a little easier than the others.  Just find a large body of water!  When we go to the beach, we usually look for things like beach glass, shells, evidence of sea life, and tumbled rocks that sparkle in the sun.  It is hard to stick to our trail rule of "Leave only footprints, take only pictures" but we try as much as we can to leave the things we find on the beach where we found them.  (I won't lie, the sea glass we bring home.) 
These hikes are a gentle stroll type hike that involves pausing to look at a pretty rock and throwing that same pretty rock into the lake a few steps later.  They include, perhaps, a seagull that will eat out of your hand, or a duck with it's ducklings following behind.  They involve your eyes and ears as much as your feet and the slow pace is just perfect for the littlest hikers.
Birds, Bugs, and Slugs Hike 
Finding birds and bugs while on a hike is an art.  We have often been on a bird refuge hike, only to find out that there are no birds but the place is CRAWLING with bugs and slugs and frogs.  This is true for most of the summer here in the Pacific North West.  Birds migrate North and South away from us, so we are their 'pit-stop' in the center during fall or spring.  A space to eat some bugs and put some weight on for the rest of their migration.   But this mid-summer time is a great time to search for bugs!  So many that would have been a meal for feathered friends are hanging out and making themselves at home for the warmest season of the year.  Grab a camera and take some bug pictures!  Last year we found six frogs in a single bathroom stall at the bird refuge.  They were taking full advantage of the low bird population for the season.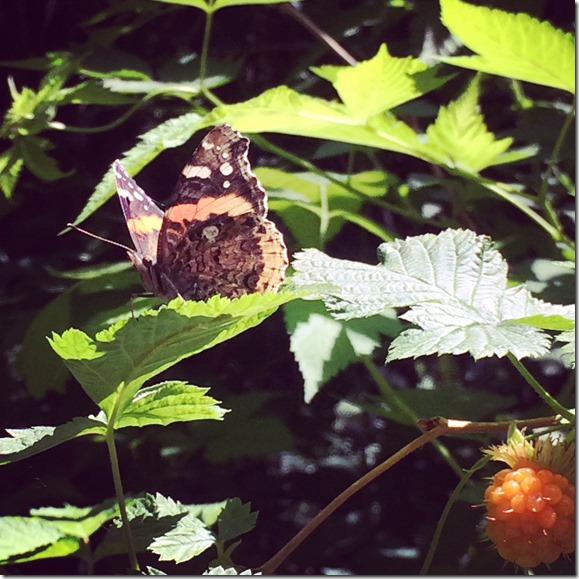 Butterfly outside of Carbon Glacier, WA 
When my kids keep their eyes open, it's amazing how observant they can be!  They will spot a flying eagle, or a tiny purple moth and instantly, the trip to the mailbox or the walk through the parking lot has just become the brightest moment of the day.  Well, imagine a whole hike, dedicated to keeping your eyes open and taking pictures of the creatures you saw?  It's a wonderful way to spend an afternoon, but even if you just have an hour, you can find countless wildlife in a short walk through a green space near you.  Your kids will shock you with their observations of the natural world we live in!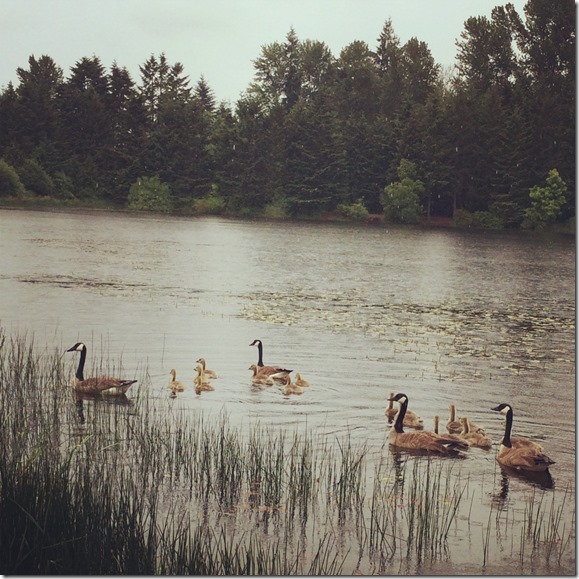 Goose Family, Puyallup, WA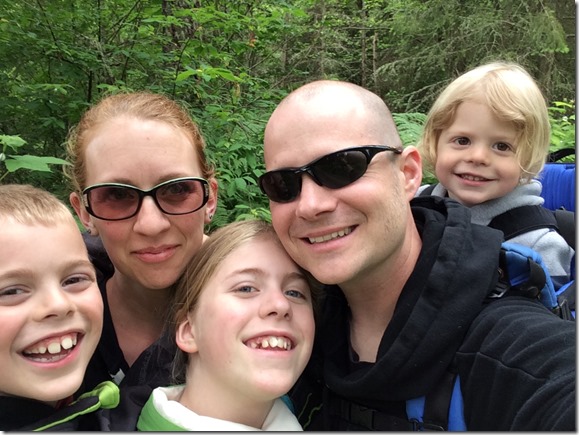 I hope that one or more of these hikes have piqued your interest and made you want to get outside this weekend and find a hiking spot near you!
Happy Hiking!